Partner referrals user dashboard #
Total Commissions: It will show how much amount is paid and unpaid to an affiliate.
Product-wise commission: This will show each product purchased with quantity and how much was earned for that product purchased via an affiliate's referral link.
Converted Referrals: This will show how much commission an affiliate has earned on each successful referral. It will show the date of a referral order, the referral customer's name, referral commission, and payout status i.e. if the payout is accepted, rejected or unpaid.
KPIs: #
Gross Commission: Total revenue earned by affiliate along with the number of orders.
Refunds: Total amount refunded from the affiliate's referrals along with a number of orders.
Net Commission: Total revenue affiliate is eligible for payout along with the number of orders less any amounts for discounts, refunds, reversals, payment processing fees, and Taxes.
Sales: Total revenue earned by the store from affiliate referrals.
Clicks: Number of hits affiliate's referrals have sent.
Conversion: Conversion rate for the affiliate.
Here affiliate users will find all information about their affiliate i.e. affiliate id, affiliate link, and coupons (Read FAQ 3 for more information). Partner referrals users can also generate a custom affiliate link using the 'Referral URL Generator'. Just enter the path of the page and you will get a custom referral URL.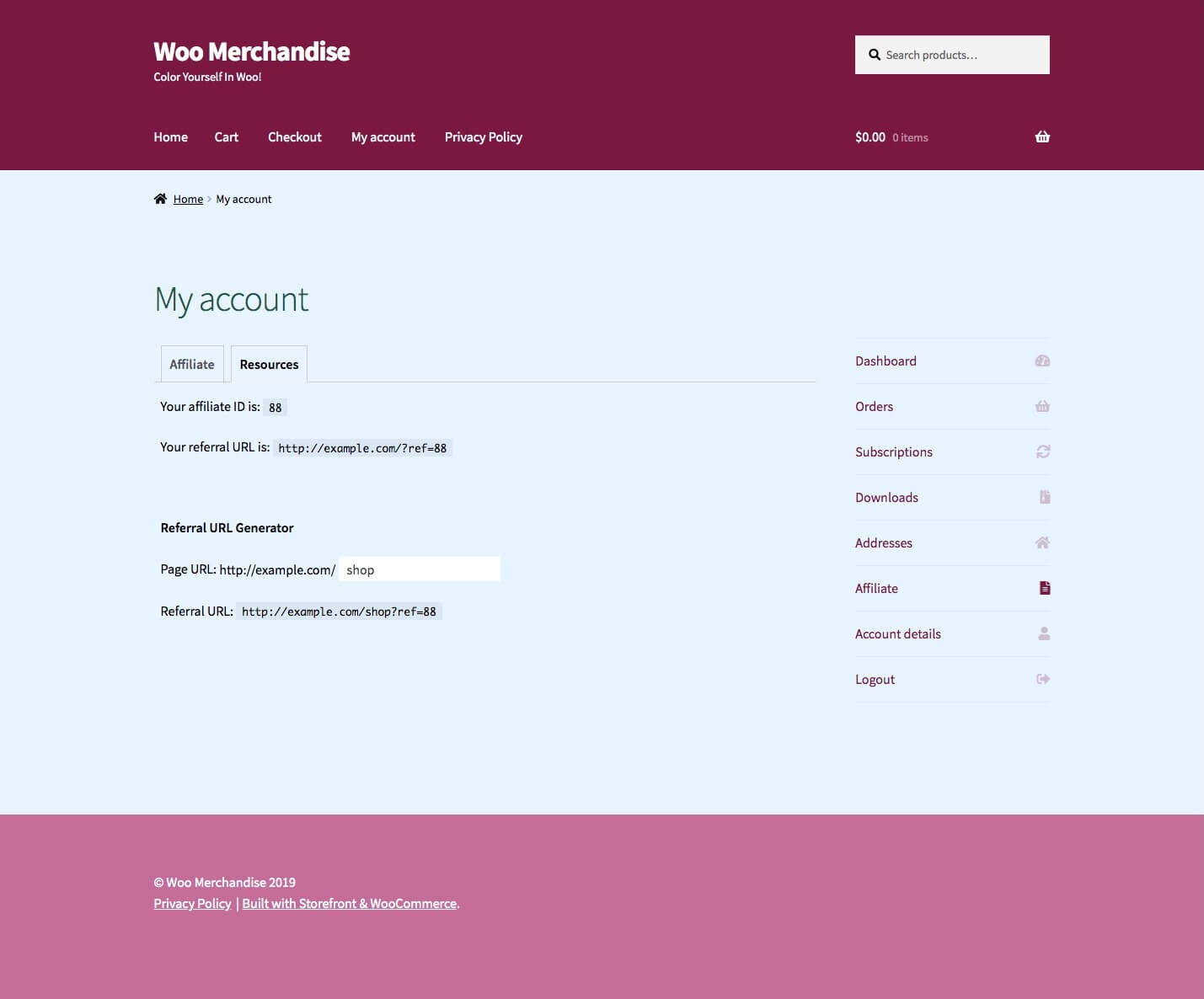 Once your marketing campaigns are created and active, your affiliates will find the generated campaigns here. Clicking on a campaign will show all the details of the campaign along with the marketing material – images, banners, swipe files, etc. added within the campaign. Partner referralss can use these materials and promote your brand/products. Learn more on setup and usage from here – How to create affiliate marketing campaigns
Store admin can see a detailed overview of each affiliate's activity.
Partner referrals for WooCommerce plugin automatically marks commission status for various orders based on the order status. Here's how the commission statuses are calculated/marked for orders: #
For paid WooCommerce order statuses (Processing, Completed), the commission status will be marked as 'Unpaid'. The store admin needs to later review them and mark them as 'Paid' after paying to the affiliates.
For rejected WooCommerce order statuses (Refunded, Cancelled, Failed), the commission status will be marked as 'Rejected'.
But for those orders wherein the order is placed but payment is not received yet (Pending, On Hold), the commission status will be marked as 'Draft'.
Orders with commission status as 'Draft' will not be considered while calculating KPIs. #